Time Tracker Pro is the easiest and fastest way to track your billable hours and generate high quality professional looking invoices.
Forget about those complex and cumbersome solutions! If it requires training it is too difficult to use. At Time Tracker Pro we are all about convenience, safety and speed.
Convenience
What use to take hours at the end of a billing cycle will now take you literally seconds! Simply start a timer when you begin an activity and stop it when you are done. At the end of the month push one button and download high quality professional looking invoices.
Safety
Have you ever stopped to think what would happen if your phone or PDA is lost, stolen or breaks at the close of the month? Disaster! Not with Time Tracker Pro! Your data remains safe, secure and backed up at all times.
Speed
Speed, speed and more speed. Our site is designed from the bottom up for use with mobile devices. Our site presents you with fast loading pages that deliver a wealth of information and provide simplistic control, in less time with rich features. (this page and the sign up page are the largest pages on our site).
We are proud of our name, MyTimeTrackerPro.com. But face it, who wants to type that on a mobile phone! So we even have a special URL for members to use http://myttpro.com and support auto login.
Account Types
Single User Account
This type account is for the one person shop. This type of account has only one user with full access to all features.
Features that include Project, Task, Client management and Report generation.
Corporate Account
This type of account is for a group of people who's time need to be tracked and billed collectively or separately to a client.
The Account Owner and anyone they assign as a Manager has full access to all features.
Features that include Account, Project, Task, Client management and Report generation.
Employees can add or edit their Timers and generate reports for their time.
Employee Account
Get your people working fast. They sign up, you approve them.
When an Employee sign up, the corporate account owner will receive a request via email that they can approve, either via email or online using the Account's management functions
Once the employees account is active, they can create and edit their own Timers and generate reports for their time.

Screen Shots - All accounts
Timers
The Timers page, and the Reports Page are the ones most users will use most.
To Create a Timer, select a project and click New.
To Start or Stop a Timer just click on the Timer Icon or the total.
View the most recent entries, or page up and down.
Filter by Project showing either the total duration or total earnings
Once running a Timer will accumulate the time spent on a given task.
When a Timer is stopped it will display the duration of the task or the earnings.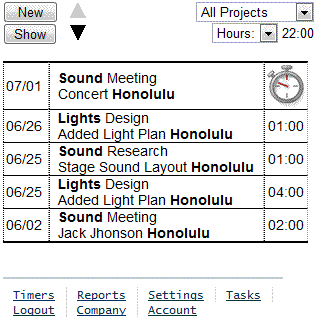 Just get to work, and fast! - When a Timer is created the values are pre filled in for you.
All you may want to add is a comment and select a Task. But you can do that at any time and we've made it easy for you!
We have pre-populated the Task list with some common labels for you, but you can add, edit or delete Tasks.
The fields from the Timers appear on Reports and Invoices: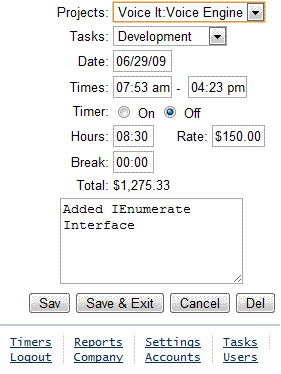 Reports
The Reports Page allows you to select the format and content of a Report or Invoice. The reporting capabilities are extensive,
A user can create a Report or Invoice for Per Project, or with all the Client's Projects on one report, or with a specific Client's Projects or just a single Project.
Corporate account Managers or Owners can even, combine, or create separately and invoice for each Employee time for a given Client. The possibilities are endless!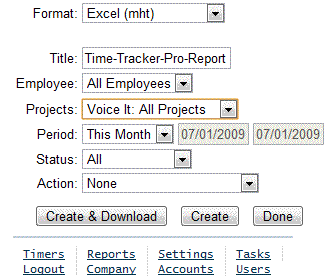 Screen Shots - Corporate accounts
Corporate accounts add support for Employee management.
The Owner or Manager can Edit, Enable, Disable, Promote, Approve or Delete an Employee's account.
.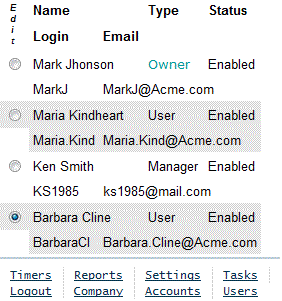 Reports, Timers and Accounts have the added control to Filter or Select by Employee
On the Reports page a Manager or Owner you can generate reports for all, some, or one Employee.